LATEST NEWS FOR KESTRELS ARCHERY CLUB
---
And the Archery GB's President's Award goes to...
Club stalwart Keith Clark was recently presented with one of Archery GB's Presidents Medals for his outstanding service to Kestrels over the years. An accomplished exponent of the English longbow and a bowyer of repute, Keith's unerring dedication to keeping the shooting ground mowed and in excellent condition is much appreciated by all members of the club and this was a richly deserved award. In the words of Chairman Dave Draper, "Keith just quietly gets on with what needs doing!"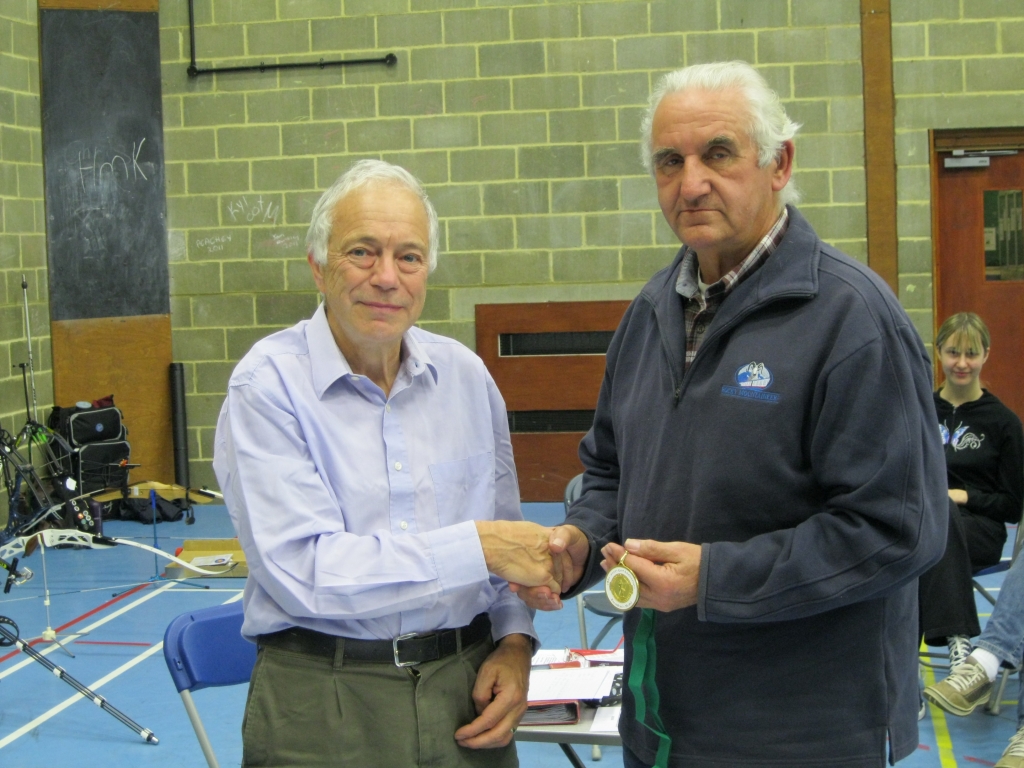 Keith Clark (right) receives his President's medal from Chairman Dave Draper
---
A Smashing Time at the 7th Kestrels Portsmouth!
Simon Bradbury from Fenland AC achieved one of two Robin
Hoods at the Kestrels Portsmouth in October. The competition
was once again full and very enjoyable for all concerned, even
for Clophill's own Terry Course, despite being on the receiving
end of the other 'ace' from Steve Spragg. The full results of this
tournament are available on the Tournaments page.
Nice shooting Simon!
---
Kestrels on BBC Three Counties Radio - A Visit from Gail Emms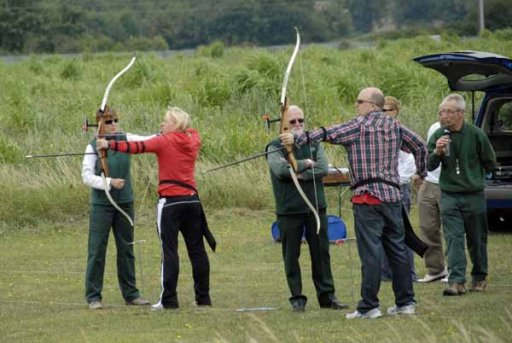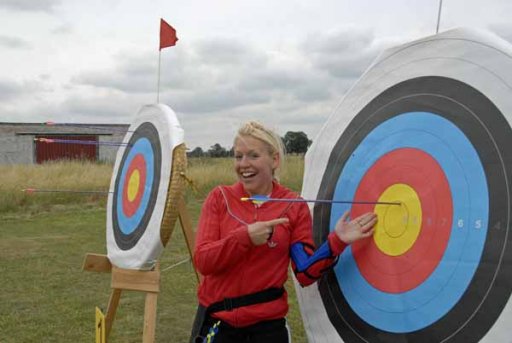 The competition hots up. The smile says it all!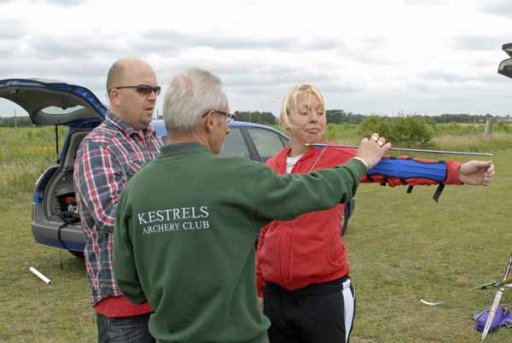 Kestrels recently received a visit from Olympic Silver medallist badminton ace
Gail Emms and Luke Ashmead from BBC Three Counties Radio. These two
intrepid individuals were on a mission to try out all of the Olympic sports and
following expert coaching from Roger and Tina, the two of them took part in a
tense head to head competition! The resulting archery programme was
broadcasted on BBC Three Counties Radio in July.
Roger gets the measure of Gail !
---
Archery GB's 'On Target' Initiative

Kestrels has recently been awarded a £500 grant from Archery GB as part of their 'On Target' initiative. Applications for these grants were invited from clubs with specific programmes in mind and Kestrels advanced coaching initiative was seen as a worthy cause. As a result of this, the club now is now able to analyse shooting form in super-slow motion on a computer to assist in identifying areas for improvement which should in time lead to better shooting and better scores! We are very grateful for this award and applaud this excellent initiative to put money into the sport.